Development (Research and Development)



In the Development Department, our objectives are "to constantly strive to accurately grasp the trends of the markets, and bring innovations together with practical use of resources in order to create new value". In order to continue to provide the best products and services, we organize Development Depertment to come up with as well as give shape to creative ideas. We have collected extensive knowledge in several fields and have a flexible development system capable of taking an idea from the planning stage to the implementation stage.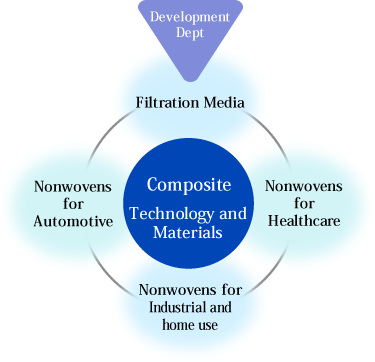 Kurashiki Textile Manufacturing's nonwoven started the business of clothing materials, but the range of application is gradually expanding with the development of new materials and innovation of processing technology. In air filter, healthcare, automotive, civil engineering, construction, agricultural, industrial material, as well as other fields, we make use of the characteristics of the particular environment in which people live and work. These nonwoven specialties come out from the research work of Development Department by utilizing analysis and testing equipment. The Development Department always team up with Sales Department and Production Plants under the close communication so that promote development the state-of-the-art technology to conduct unique nonwoven products into the markets. To seek the potential of nonwoven application is highly expected as the main activity of Department of Development.

Kurashiki Textile Manufacturing supply wide variety of functional nonwoven developed from original processing technology based on three manufacturing methods to meet customer needs. In addition, we promote the development of environmentally friendly and recycle-friendly products.
· Thermal Bonding
· Chemical Bonding
· Needle Punching
· Antibacterial · Antivirus
· Deodorizing
· Anti-Allergen
· Flame-Retardant
· Electret
· Composite Technology
· Metal Ion Adsorption